Beard Science by Penny Reid (Read my Review)
Make a deal with the devil and you might get what you want, but will it be what you need?
Jennifer Sylvester wants one thing, and that one thing is NOT to be Tennessee's reigning Banana Cake Queen. Ever the perpetual good girl and obedient daughter, Jennifer is buckling under the weight of her social media celebrity, her mother's ambitions, and her father's puritanical mandates. Jennifer is officially desperate.
And desperate times call for Cletus Winston.
Cletus Winston is a puzzle wrapped in a mystery covered in conundrum sauce, and now he's in a pickle. Despite being convinced of his own omniscience, extortion by the exalted Banana Cake Queen of Green Valley has taken him completely by surprise. So… what's a maniacal mastermind to do?
Likely, the last thing you expect.
'Beard Science' is the third book in the Winston Brothers series, is a full-length romantic comedy novel, and can be read as a standalone.
Bad for You by J. Daniels (Read my Review)
He didn't want to be bad. He just didn't have a choice…
Shayla Perkins isn't the kind of girl who makes the same mistake twice, especially when it comes to Sean "Stitch" Molina. So when he gives her the world's biggest rejection, that's it–she's done. Until the sexy, silent, unavailable Sean makes Shay a very personal offer. Of course, it still doesn't mean he's interested in her. Or does it?
Sean has done things in life. Bad things. And he's paid the price. All he wants now is to make up for his past by doing good in the present. And no one deserves more good than Shay. Beautiful on the inside and out, Shay is the kind of woman who should be cared for and protected–especially from a man like Sean. He's tried to keep his feelings for her in check, but a single, reckless impulse pulls them closer than ever before.
Soon the two are sharing their biggest dreams and satisfying their deepest desires. But what will happen if the only way to truly give each other what they want most…is to let each other go?
The Opposite of You by Rachel Higginson (Read my Review)
I've sworn off men.
All men.
Famous last words, right? You're expecting some epic tale of reluctant love and my dramatic change of heart? Well, you're not going to get it.
I'm stubborn. And headstrong. And I've just survived the worst three years of my life. After escaping an abusive boyfriend to live in hostels and cheap hotels while I worked my way across Europe, I've come to two conclusions.
The first? Now that I'm back home, I'm going to squander my expensive culinary degree on a food truck that caters to the late night drunk crowd.
The second? I'm going to prove to the bastard across the plaza that my street food is better than his fussy five course monstrosities.
Killian Quinn might be Food and Wine's Chef to Watch Out For. He might have a Michelin Star. He might have every food critic in the city wrapped around his too-large fingers. But he's also pretentious and unbearably arrogant and the very opposite of me.
So he can keep his unsolicited advice and his late night visits and his cocky smiles. I want none of it. Or him.
I want the opposite.
The Problem with Him by Rachel Higginson (Read my Review)
I'm over men. I'm done with them.
Or at least the ones that work in my kitchen. Fine, one man in particular. Wyatt Shaw is cocky and condescending and so far out of his element that he doesn't know which way is up. Or how to run his brand new kitchen all by himself.
That's where I come in. Sous chef extraordinaire. Second in command. Bane of his existence. I am the reason Wyatt's doing so well as the new executive chef of one of our city's most prestigious restaurants. He has me to thank for his glowing accolades and five-star write-ups. Only if you were to ask him, he'd say I'm his biggest problem.
Despite his discouragement and bullish behavior, I've set two goals for myself.
The first? I'm going to fight my way to the top of this male-dominated industry and claim my own award-winning kitchen.
The second? I'm going to do whatever it takes to ignore Wyatt and his rare smiles and the thickening tension that's started to simmer between us.
Wyatt Shaw might be Durham's new shining star. He might be up for a James Beard Award. He might be my new boss and key to my future success, but he's also in my way.
So he can keep his smoldering looks and secret kisses. And he can be the one that figures out how to make it through service without getting distracted by me.
I'm not the problem. The problem is him.
Burn for You by J.T. Geissinger (Read my Review)
Jackson "The Beast" Boudreaux is rich, gorgeous, and unbelievably rude to the staff at Chef Bianca Hardwick's New Orleans restaurant. Bianca would sooner douse herself in hot sauce than cook for Jackson again, but when he asks her to cater his fund-raiser, Bianca can't refuse, knowing the cash will help pay her mother's medical bills. Then Jackson makes another outrageous request: Marry me. The unconventional offer includes an enormous sum—money Bianca desperately needs, even if it does come with a contract—and a stunning ring.
The heir to a family bourbon dynasty, Jackson knows the rumors swirling around him. The truth is even darker. Still, he needs a wife to secure his inheritance, and free-spirited, sassy Bianca would play the part beautifully. Soon, though, their simple business deal evolves into an emotional intimacy he's built walls to avoid.
As the passion heats up between them, Bianca and Jackson struggle to define which feelings are real and which are for show. Is falling for your fake fiancé the best happy ending…or a recipe for disaster?
Show Me the Way by A.L.  Jackson (Read my Review)
The first sexy, captivating, stand-alone novel in the brand-new FIGHT FOR ME series from NYT & USA Today Bestselling Author A.L. Jackson . . .
Rex Gunner. As bitter as he is beautiful.
The owner of the largest construction company in Gingham Lakes has been burned one too many times. His wife leaving him to raise their daughter was the last blow this single dad could take. The only woman he'll let into his heart is his little girl.
Rynna Dayne. As vulnerable as she is tempting.
She ran from Gingham Lakes when she was seventeen. She swore to herself she would never return. Then her grandmother passed away and left her the deed to the diner that she once loved.
When Rex meets his new neighbor, he knows he's in trouble.
She's gorgeous and sweet and everything he can't trust.
Until she becomes the one thing he can't resist.
One kiss sends them tumbling toward ecstasy.
But in a town this size, pasts are bound to collide. Caught in a web of lies, betrayal, and disloyalty, Rex must make a choice.
Will he hide behind his walls or will he take the chance . . .
Sweet Temptation by K.C. Lynn 
At seventeen-years-old Grace Morgan had managed to live through what would be the worst day of her life. Three years later she finds herself in the beautiful, small town of Sunset Bay, South Carolina—a perfect place to start her life over. This is where she meets the bestest friends she will ever have, and one cocky, sexy former Navy Seal who makes her heart beat faster. Right when things start looking up, the worst day of her life comes back with a vengeance, ruining the peace she has finally found.
Sawyer Evans loves women just as much as they love him. His philosophy is: the more the merrier, with no strings attached. But all that changes the day he meets a sweet, beautiful blonde baker with sad amber eyes, who smells like cupcakes. The only girl who isn't affected by his good looks and charm, or so he thinks.
When Grace's life is threatened, he will not only protect her but also prove to her that his heart is bigger than his ego.
***
This is Book Two in the Men of Honor series. It can be read as a standalone, has an HEA. Due to strong sexual content, coarse language and mature subject matter this book is not suitable for anyone under the age of 18.
Sweet Haven by K.C. Lynn (Read my Review)
RECIPE:
Two cups of an arrogant, dirty talkin' firefighter who has an obsession with peaches and the forbidden girl who smells like them.
One tablespoon of a sweet schoolteacher trying to find her place in the world while attempting to resist her brother's sworn enemy.
A slice of fate that has their hearts questioning the past and the consuming need they have for one another.
A dash of desire.
A pinch of rivalry.
A sprinkle of déjà vu.
Mix together in a large bowl to create a combustible passion and a future that neither of them could have ever predicted.
Bake at 350° for a rich serving of destiny and a love that could burn for eternity.
A timeless recipe that is sure to fill your heart with a generous helping of Sweet Haven.
***
This a longer length novella and is the second book in the Sweet series. It is told in dual POV, has an HEA, and no cliffhanger. Since Samantha and Jase are recurring characters from Sweet Temptation and Sweet Love, I recommend reading both books prior to this but it isn't a must.
Warning: Due to mature subject matter, such as explicit sexual situations and coarse language, this story is not suitable for anyone under the age of 18.
Sweet Addiction by J.Daniels 
Wedding hookups never amount to anything.
Those who partake in this wicked little activity know the rules. Get in. Get laid. Get out. There's no expectation of a relationship. It is what it is.
Dylan Sparks knows the rules. She's familiar with the protocol. And she engages in the best sex of her life with a complete stranger at her ex-boyfriend's wedding.
Reese Carroll doesn't care about the rules. He wants more than just one night with Dylan.
And Dylan finds him too addicting to pass up.
Sweet Addiction is the story of one woman's struggle to keep things casual, and one man's desire to never let her go.
Exquisite by Ella Frank 
Her heart was guarded…
Tormented by self-imposed guilt, Dr Lena O'Donnell has spent the last nine years in survival mode. Struggling through days that seem to blend together and battling her way through each horrifying night, she's determined that this is what she deserves…
Until he tore down the walls…
Mason Langley's life is going exactly the way he planned it, until her. A confirmed bachelor and the successful owner of the hottest restaurant to hit Chicago, he never expected to be blindsided by an angry woman in a pair of scrubs. No matter how hard he tries, he can't seem to shake the doctor, and he finds himself liking the way she makes him feel.
Almost over night Lena finds her world turned upside down by Mason and the sexual desire they discover together. Slowly, she lowers her guard and invites him inside but when tragedy strikes she begins to believe that sometimes it's better to be alone and safe than to love and lose…
Edible by Ella Frank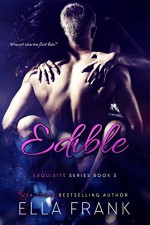 Edible, delicious, delectable.
Rachel Langley is more than familiar with those three words in her line of work. After all, she spends her afternoons and evenings creating desserts so divine that your mouth will water and your taste buds will tingle.
They aren't, however, the words she would have ever expected to think of when she locks eyes with a certain lawyer she knows only as Cole.
With each encounter, the infuriatingly persistent man becomes more impossible to resist, and edible is the exact word that comes to mind.
Crave, demand, covet.
Cole Madison knows exactly what he wants, and Rachel Langley is it. From the moment he spotted her at Whipped, he knew he wanted to grab hold and take a bite.
However, the woman has enigmatic moves, avoiding him at every turn.
But not for much longer.
Rachel's time is up, and as far as Cole is concerned, he's waited too long for a taste of what he desires. Nothing, including the woman herself, will stop him from consuming what he hungers for.
The only question left is: Who will take the first bite?
Nuts by Alice Clayton 
The New York Times bestselling author of Wallbanger and Rusty Nailed is back with Nuts, the first in a brand new series set in New York's beautiful Hudson Valley.
Roxie Callahan is a private chef to some of Hollywood's wealthiest, and nastiest, calorie-counting wives. After a dairy disaster implodes her carefully crafted career in one fell ploop, she finds herself back home in upstate New York, bailing out her hippie mother and running the family diner.
When gorgeous local farmer Leo Maxwell delivers her a lovely bunch of organic walnuts, Roxie wonders if a summer back home isn't such a bad idea after all. Leo is heavily involved in the sustainable slow food movement, and he likes to take his time. In all things. Roxie is determined to head back to the west coast as soon as summer ends, but will the pull of lazy fireflies and her very own Almanzo Wilder be enough to keep her home for good?
Salty. Spicy. Sweet. Nuts. Go on, grab a handful.
The One You Can't Forget by Roni Loren (Read my Review)
Most days Rebecca Lindt feels like an imposter…
The world admires her as a survivor. But that impression would crumble if people knew her secret. She didn't deserve to be the one who got away. But nothing can change the past, so she's thrown herself into her work. She can't dwell if she never slows down.
Wes Garrett is trying to get back on his feet after losing his dream restaurant, his money, and half his damn mind in a vicious divorce. But when he intervenes in a mugging and saves Rebecca—the attorney who helped his ex ruin him—his simple life gets complicated.
Their attraction is inconvenient and neither wants more than a fling. But when Rebecca's secret is put at risk, both discover they could lose everything, including what they never realized they needed: each other
She laughed and kissed him. This morning she'd melted down. But somehow this man had her laughing and turned on only a few hours later. Everything inside her felt buoyed.
She felt…light.
She'd forgotten what that felt like.
Garden Spells by Sarah Addison Allen 
Welcome to Bascom,North Carolina, where it seems that everyone has a story to tell about the Waverley women. The house that's been in the family for generations, the walled garden that mysteriously blooms year round, the rumours of dangerous loves and tragic passions. Every Waverley woman is somehow touched by magic. Claire has always clung to the Waverleys' roots, tending the enchanted soil in the family garden from which she makes her sought-after delicacies – famed and feared for their curious effects. She has everything she thinks she needs – until one day she waked to find a stranger has moved in next door and a vine of ivy has crept into her garden . . . Claire's carefully tended life is about to run gloriously out of control.