What the Wind Knows by Amy Harmon (Read my Review)
Anne Gallagher grew up enchanted by her grandfather's stories of Ireland. Heartbroken at his death, she travels to his childhood home to spread his ashes. There, overcome with memories of the man she adored and consumed by a history she never knew, she is pulled into another time.
The Ireland of 1921, teetering on the edge of war, is a dangerous place in which to awaken. But there Anne finds herself, hurt, disoriented, and under the care of Dr. Thomas Smith, guardian to a young boy who is oddly familiar. Mistaken for the boy's long-missing mother, Anne adopts her identity, convinced the woman's disappearance is connected to her own.
As tensions rise, Thomas joins the struggle for Ireland's independence and Anne is drawn into the conflict beside him. Caught between history and her heart, she must decide whether she's willing to let go of the life she knew for a love she never thought she'd find. But in the end, is the choice actually hers to make?
The One You Fight For by Roni Loren (Read my Review) 
Taryn Landry was there that awful night fourteen years ago when Long Acre changed from the name of a town to the title of a national tragedy. Everyone knows she lost her younger sister. No one knows it was her fault. Since then, psychology professor Taryn has dedicated her life's work to preventing something like that from ever happening again. Falling in love was never part of the plan…
Shaw Miller has spent more than a decade dealing with the fallout of his brother's horrific actions. After losing everything—his chance at Olympic gold, his family, almost his sanity—he's changed his name, his look, and he's finally starting a new life. As long as he keeps a low profile and his identity secret, everything will be okay, right?
The Kiss Thief by L.J. Shen (Read my Review)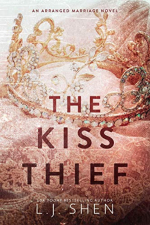 They say your first kiss should be earned.
Mine was stolen by a devil in a masquerade mask under the black Chicago sky.
They say the vows you take on your wedding day are sacred.
Mine were broken before we left church.
They say your heart only beats for one man.
Mine split and bled for two rivals who fought for it until the bitter end.
I was promised to Angelo Bandini, the heir to one of the most powerful families in the Chicago Outfit.
Then taken by Senator Wolfe Keaton, who held my father's sins over his head to force me into marriage.
They say that all great love stories have a happy ending.
I, Francesca Rossi, found myself erasing and rewriting mine until the very last chapter.
One kiss.
Two men.
Three lives.
Entwined together.
And somewhere between these two men, I had to find my forever.
Faking It by K. Bromberg (Read my Review) 
Zane Phillips mistook me for his dog walker. It shouldn't surprise me that the man with a suit more expensive than my rent would assume that I was there to serve him. The positive? I put him in his place. The negative? I missed my job interview because of it.
Now I find out he's a rich Australian entrepreneur, and he wants to make up for tanking my interview. Yes, he's impossibly hot – but he's also an arrogant jackass—so . . . no thanks.
But after a little white lie I tell spirals out of control, I'm somehow offered the chance to play Zane's girlfriend to help promote his new dating website – and the best part? He can't say no because he'll get caught in his lie too.
Little did I know this would entail sharing a tour bus with him for the next few months. The fact that the bus has just one bed isn't the most ideal of circumstances, but this spokesperson gig might be the kick in the pants my career needs, so why not take a chance?
Famous last words.
Now I'm crisscrossing the country–and sharing that bed—with the one guy I can't stand. And even worse, my traitorous body is wondering at every turn what it's like to be down under the gorgeous Australian. But as the miles unfurl, so does our passion…and if I'm not careful, I might end up believing that fairytales really do come true.
Be the Girl by K.A. Tucker (Read my Review) 
Almost sixteen-year-old Aria Jones is starting over. New postal code, new last name, new rules. But she doesn't mind, because it means she can leave her painful regrets behind. In the bustling town of Eastmonte, she can become someone else. Someone better.
With the Hartford family living next door, it seems she will succeed. Sure, Cassie Hartford may be the epitome of social awkwardness thanks to her autism, but she also offers an innocent and sincere friendship that Aria learns to appreciate. And Cassie's older brother, Emmett–a popular Junior A hockey player with a bright future–well … Aria wishes that friendship could lead to something more. If he didn't already have a girlfriend, maybe it would.
But Aria soon finds herself in a dicey moral predicament that could derail her attempt at a fresh start. It is her loyalty to Cassie and her growing crush on Emmett that leads her to make a risky move, one that earns her a vindictive enemy who is determined to splinter her happy new world.
Work in Progress by Staci Hart (Read my Review) 
I never thought my first kiss would be on my wedding day.
But here I stand, clutching a bouquet of pale pink roses behind the doors of a Las Vegas chapel, and at the end of the aisle is the absolute last man I imagined would be waiting for me.
Thomas Bane.
Bestselling author. Notorious bad boy. Savagely handsome, dark as sin, chiseled as stone. And somehow, my soon-to-be husband.
Marry him, and I'll land my dream job. Save him, and I'll walk away with everything I've ever wanted. All I have to do is remember it's all for show. None of it is real, no matter how real it feels.
But first, I have to survive the kiss.
And with lips like his, I don't stand a chance.
The Son and His Hope by Pepper Winters (Read my Review) 
JACOB
The day he was born, Jacob learned his hardest and longest lesson.
It wasn't a lesson a boy should learn so young, but from his earliest memories he knew where happiness lives, so does tragedy. Where love exists, so does heartbreak. And where hope resides, so does sorrow.
That lesson carved him from the kid to the teen to the man.
And nothing and no one could change his mind.
HOPE
I first met him when he was fourteen at a movie premiere of all places. A movie based on his parent's life.
He was stoic, strong, suspicious, and secretive.
I was only ten, but I felt something for him. A strange kind of heartbreak that made me want to hug and heal him.
I was the daughter of the actor hired to play his father.
We shared similarities.
I recognised parts of him because they were parts of me.
But no matter how many times we met. No matter how many times I tried.
He stayed true to his vow to never fall.
Motion by Penny Reid (Read my Review) 
One week.
Home alone.
Girl genius.
Unrepentant slacker.
Big lie.
What's the worst that could happen?
Mona is a smart girl and figured everything out a long time ago. She had to. She didn't have a choice. When your parents are uber-celebrities and you graduate from high school at fifteen, finish college at eighteen, and start your PhD program at nineteen, you don't have time for distractions outside of your foci. Even fun is scheduled. Which is why Abram, her brother's best friend, is such an irritant.
Abram is a talented guy, a supremely gifted musician, and has absolutely nothing figured out, nor does he seem to care. He does what he feels, when he feels, and—in Mona's opinion—he makes her feel entirely too much.
Irresistible by Melanie Harlow (Read my Review) 
I'm a full-time single dad to three daughters and CFO at Cloverleigh Farms. I don't have time to fall in love—I'm too busy trying to run a business, keep the red socks out of the white laundry, and get the damn pillowcases on without owing a dollar to the swear jar.
Sure, Frannie Sawyer is beautiful and sweet, but she's twenty-seven, the boss's daughter, and my new part-time nanny—which means she's completely off-limits. It's bad enough I can't stop fantasizing about her, what kind of jerk would I be if I acted on the impulse to kiss her?
(Exactly the kind of jerk you're thinking.)
Actually, I'm worse than that—because I didn't stop with a kiss, and now I can't stay away.  She makes me feel like myself again. She reminds me what it's like to want something just for me. She's everything I ever needed, but nothing I ever imagined.
I'm a former Marine. I should have had the strength to resist her from the start.
But I didn't. And now I have to choose between the life I want and the life she deserves.
Even if it means giving her up.
The Risk by Elle Kennedy (Read my Review) 
Everyone says I'm a bad girl. They're only partly right—I don't let fear rule me, and I certainly don't care what people think. But I draw the line at sleeping with the enemy. As the daughter of Briar's head hockey coach, I'd be vilified if I hooked up with a player from a rival team.
And that's who Jake Connelly is. Harvard's star forward is arrogant, annoying, and too attractive for his own good. But fate is cruel—I require his help to secure a much-coveted internship, and the sexy jerk isn't making it easy for me.
I need Connelly to be my fake boyfriend.
For every fake date…he wants a real one.
Which means this bad girl is in big trouble. Nothing good can come from sneaking around with Jake Connelly. My father would kill me, my friends will revolt, and my post-college career is on the line. But while it's getting harder and harder to resist Jake's oozing sex appeal and cocky grin, I refuse to fall for him.
That's the one risk I'm not willing to take.
Devil's Daughter by Lisa Kleypas (Read my Review) 
Although beautiful young widow Phoebe, Lady Clare, has never met West Ravenel, she knows one thing for certain: he's a mean, rotten bully. Back in boarding school, he made her late husband's life a misery, and she'll never forgive him for it. But when Phoebe attends a family wedding, she encounters a dashing and impossibly charming stranger who sends a fire-and-ice jolt of attraction through her. And then he introduces himself…as none other than West Ravenel.
West is a man with a tarnished past. No apologies, no excuses. However, from the moment he meets Phoebe, West is consumed by irresistible desire…not to mention the bitter awareness that a woman like her is far out of his reach. What West doesn't bargain on is that Phoebe is no straitlaced aristocratic lady. She's the daughter of a strong-willed wallflower who long ago eloped with Sebastian, Lord St. Vincent—the most devilishly wicked rake in England.
Before long, Phoebe sets out to seduce the man who has awakened her fiery nature and shown her unimaginable pleasure. Will their overwhelming passion be enough to overcome the obstacles of the past?
Only the devil's daughter knows…
Surprise, Baby by Lex Martin & Leslie McAdam (Read my Review) 
I don't care that Drew Merritt spent the last year transforming himself from grungy slob to sexy playboy. With messy, dirty blond hair and gorgeous eyes, his looks aren't the problem.
His mouth is.
And the stupid things that come out of it.
But after an emergency strands us together, and he does his damnedest to take care of me…
Let's just say there's one thing we don't clash on.
And it doesn't involve talking.
I've despised Drew since I met him years ago. One weekend can't change us that much, can it?
Spoiler alert: It doesn't.
Except he left me a little keepsake.
And in nine months, I'll have a surprise for Portland's most notorious player.
Worth Fighting For by Laura Kaye (Read my Review) 
Getting in deep has never felt this good…
Commercial diver Tara Hunter nearly lost everything in an accident that saw her medically discharged from the navy. With the help of the Warrior Fight Club, she's fought hard to overcome her fears and get back in the water where she's always felt most at home. At work, she's tough, serious, and doesn't tolerate distractions. Which is why finding her gorgeous one-night stand on her new dive team is such a problem.
Former navy deep-sea diver Jesse Anderson just can't seem to stop making mistakes—the latest being the hot-as-hell night he'd spent with his new partner. This job is his second chance, and Jesse knows he shouldn't mix business with pleasure. But spending every day with Tara's smart mouth and sexy curves makes her so damn hard to resist.
Joining Tara's wounded warrior MMA training program seems like the perfect way for Jesse to blow off steam—except now they're getting in deep and taking each other down day and night. And even though it breaks all the rules, their inescapable attraction might just be the only thing truly worth fighting for.
Hook Shot by Kennedy Ryan (Read my Review) 
Divorced. Single dad. Traded to a losing squad.
Cheated on, betrayed, exposed.
My perfect life blew up in my face and I'm still picking up the pieces.
The last thing I need is her.
A wildflower. A storm. A woman I can't resist.
Lotus DuPree is a kick to my gut and a wrench in my plans
from the moment our eyes meet.
I promised myself I wouldn't trust a woman again,
but I've never wanted anyone the way I want Lo.
She's not the plan I made, but she's the risk I have to take.
A warrior. A baller. The one they call Gladiator.
Kenan Ross charged into my life smelling all good, looking even better and snatching my breath from the moment we met.
The last thing I need is him.
I'm working on me. Facing my pain and conquering my demons.
I've seen what trusting a man gets you.
I. Don't. Have. Time. For. This.
But he just keeps coming for me.
Keeps knocking down my defenses and stealing my excuses
one by one.
He never gives up, and now…I'm not sure I want him to.
Pieces of Us by A.L. Jackson (Read my Review) 
Maxon Chambers has a way of stealing all the attention.
All my affection, and all my dreams.
What I needed to remember was he'd stolen my good judgment and my virginity, too.
When he broke up with me, I ran across the country and swore I'd never return to Broadshire Rim.
But here I am, thirteen years later.
Maxon is all grown up.
Sexier than sin and more tempting than ever.
A detective on the Charleston force, he lives on the outside of safety, devoted to protecting the people of his city.
But with the way he's looking at me now? I'm pretty sure what needs protecting is my heart.
Can we mend the pieces of us? Or will he leave my heart shattered forever . . .
Method by Kate Stewart (Read my Review) 
Hollywood is a temptress, a trickster, a soul-stealing devil.
I married an A-list player, knowing I come second place to his craft. But Lucas and I are a golden couple, a modern-day fairy tale.
I've never doubted what we built…until the sudden death of Lucas's best friend has scandal rocking the Hills and shaking the foundation of our relationship.
I chose Lucas as my safe haven…he chose the role of a lifetime.
For the next three months, I'll share my nights with a stranger, watching as he buries his pain, immersed in his role and living as someone else.
We've done this before. I tell myself it's just another movie, and he'll return to me.
I should've known this time would be different.
To get my husband back, I'll need the strength of ten men.
As it turns out, I'll have to go through two.
Imperfect Match by Melanie Harlow & Corinne Michaels (Read my Review) 
From NYT Bestseller Corinne Michaels & USA Today Bestseller Melanie Harlow, comes a sexy friends to lovers standalone romance.
Rule number one for a professional matchmaker?
Don't fall in love with your client.
I screwed that up when I fell for my best friend, Reid Fortino. He's gorgeous, successful, and sexy as hell. I figured it would be easy to find him a match—and save the family business at the same time.
But the more time I spend attempting to find the perfect girl, the more I realize how much I want him for my own. What's the harm if we give in for just one night?
I should have known that would never be enough.
Now I'm on the verge of losing my job and my heart.
We were an imperfect match from the start, but I don't know how to let him go.
Marriage for One by Ella Maise (Read my Review) 
Jack and I, we did everything backward. The day he lured me into his office-which was also the first day we met-he proposed. You'd think a guy who looked like him-a bit cold maybe, but still striking and very unattainable-would only ask the love of his life to marry him, right? You'd think he must be madly in love.
Nope. It was me he asked. A complete stranger who had never even heard of him. A stranger who had been dumped by her fiancé only weeks before. You'd think I'd laugh in his face, call him insane-and a few other names-then walk away as quickly as possible. Well…I did all those things except the walking away part.
It took him only minutes to talk me into a business deal…erm, I mean marriage, and only days for us to officially tie the knot. Happiest day of my life. Magical. Pop the champagne… Not. It was the worst day. Jack Hawthorne was nothing like what I'd imagined for myself.
I blamed him for my lapse in judgment. I blamed his eyes, the ocean blue eyes that looked straight into mine unapologetically, and that frown on his face I had no idea I would become so fascinated with in time.
It wasn't long after he said I was the biggest mistake of his life that things started to change. No, he still didn't talk much, but anyone can string a few words together. His actions spoke the loudest to me. And day after day my heart started to get a mind of its own.
One second he was no one. The next he became everything.
One second he was unattainable. The next he seemed to be completely mine.
One second I thought we were in love. The next it was still nothing but a lie.
After all, I was Rose and he was Jack. We were doomed from the very beginning with those names. Did you expect anything else?
The Bride Test by Helen Hoang (Read my Review) 
Khai Diep has no feelings. Well, not big, important emotions – like grief. And love. He thinks he's defective. His family knows better – that his autism means he just processes emotions differently. When he steadfastly refuses to consider a relationship, his mother takes matters into her own hands and returns to Vietnam to find him the perfect bride.
As a mixed-race girl living in the slums of Ho Chi Minh City, Esme Tran has always felt out of place. So when the opportunity arises to go to America and meet a potential husband, she can't turn it down. This could be the break her family needs. Seducing Khai, however, doesn't go quite as planned. Esme's lessons in love seem to be working… but only on herself. She's hopelessly smitten with a man who's convinced he can never return her affection.
As Esme's time in the United States dwindles, will Khai let his head catch up with his heart? Will he find the strength to let go, and let love in?
Savaged by Mia Sheridan (Read my Review)
When wilderness guide, Harper Ward, is summoned to the small town sheriff's office in Helena Springs, Montana, to provide assistance on a case, she is shocked to find that their only suspect in the double murder investigation is a man described as a savage.
But the longer she watches the man known only as Lucas, on the station surveillance camera, the more intrigued she becomes. He certainly looks primitive with his unkempt appearance and animal skin attire, but she also sees intelligence in his eyes, sensitivity in his expression. Who is he? And how is it possible that he's lived alone in the forest since he was a small child?
As secrets begin to emerge, Harper is thrust into something bigger and more diabolical than she ever could have imagined. And standing right at the center of it all, is Lucas. But is he truly the wild man he appears to be? A cold blooded killer? An innocent victim? Or a perplexing mix of all three?
Harper must find out the answers to these questions because the more time she spends with him, the more she risks losing her heart.
The Indefinite Duet by Corinne Michaels (Read my Review) 
The day he said he'd never love me is when I vowed Quinn Miller would never break my heart again.
I wanted a family—but he wouldn't give me that. As one of the top embryologists in the country, I've spent years creating babies in the lab for other people as my own dreams of motherhood fade.
I'm done waiting. I decide to start the journey to parenthood alone.
Then Quinn strolls back into my life, with all the finesse of a hurricane. I'm a fool to think I don't want him anymore, and one reckless night of passion ends with me pregnant by the man I swore I'd never love again.
Now he doesn't just want my heart, he wants it all. The baby. Love. A life where we're happy.
But even as he promises me the future I always desired, I can't help but fear that something will rip him away from me again.
This time . . . indefinitely.
This is a part of the Salvation series but can be read as a standalone duet.
The Guy on the Right by Kate Stewart (Read my Review) 
Strike One-My mother named me Theodore after her favorite chipmunk.
Not cool, Mom.
I've spent most of my life answering to Teddy, because I couldn't make Theo work.
Except for here. College. The place where all bets are off, and I've managed to redeem myself.
There's only one problem, my new roommate, Troy, is football royalty and looks like he stepped off the set of an Abercrombie shoot.
Doesn't matter, I cook a mean breakfast for his panty parade, and we get along well.
And anyway, this year I got the girl. And she's perfect.
That's right. Theodore Houseman, former band geek, now marching band rock star has finally landed the girl of his dreams.
Everything is perfect.
That is, until Troy takes a good look at her.
I'm not going down without a fight. As a matter of fact, I'm not going down at all. As glorious as these days may be for my all-star roommate, Laney is my end game.
I may not know much about play strategy, but I've been the good guy my whole life. I've been listening and I know exactly what women want. Framed in a picture standing next to me, Troy may seem like Mr. Perfect, but he's underestimating the guy on the right.
Spoiler alert: In this story, the underdog is going to win.
Moti on the Water by Leylah Attar (Read my Review) 
Meet Moti Ferreira—spectacularly jinxed from the day she's born.
Saddled with an eccentric mother, she stumbles upon the one man who holds the key to her freedom—the best man at her cousin's upcoming wedding.
All Moti has to do is overcome her fear of water, board a yacht to the Greek Isles, seduce the dreamy Nikos Manolas, and survive two weeks at sea with her oddball family.
The only obstacle Moti doesn't see coming is Alexandros Veronis, the onboard chef and star witness to her awkward mishaps. He transforms onions into chocolate and aroma into nostalgia. Day by day, his alchemy works its magic on Moti. But she's not the only one falling under his spell. Everyone has a secret, growing round and ripe at Chef Alex's table. When the masks fall off, they spill out one by one, and everything blows up in their faces.
Now Moti's truth is exposed, and worse, she's hooked on more than Alex's midnight snacks. But this time, screwing up could be the best thing she's ever done…
The Candle Palace by Devney Perry (Read my Review) 
Sometimes a single flame can ignite a love that lasts a lifetime.
Milo Phillips knows the meaning of pain. Suffering through the most intense physical agony of his life, he's confined to a hospital bed to bear it alone. More than once, he wishes he'd died in the explosion that melted and mangled his skin. Darkness consumes him, snuffing all the joy in his life and leaving an empty hole in its place.
But one day, a flicker of light sneaks into his hospital room, driving away some of the hopelessness. For the first time in months, pain isn't all he feels.
The flicker's name is Sara Foster, his new nurse. Milo just hopes that Sara can see past his scars. Because underneath, his heart has begun beating again just for her.
Coming Up Roses by Staci Hart (Read my Review) 
Everyone hates parts of their job.
Maybe it's the paperwork. Maybe it's the day-to-day grind. Maybe it's that client who never knows what they want, or the guy who always cooks fish in the microwave.
But not me. I love every corner of the Longbourne Flower Shop, every flower, every petal, every stem. I love the greenhouse, and I love Mrs. Bennet, my boss. I love creating, and I love being a florist. I don't hate anything at all.
Except for Luke Bennet.
The Bennet brothers have come home to help their mom save the flower shop, and Luke is at the helm. His smile tells a tale of lust, loose and easy. He moves with the grace of a predator, feral and wild. A thing unbridled, without rules or constraint. When he comes home to save Longbourne, I almost can't be mad at him. Almost.
He doesn't remember that night I'll never forget. That kiss, touched with whiskey and fire. It branded me like a red-hot iron. But it meant nothing to him.
Everyone hates part of their job, and I hate Luke Bennet.
Because if I don't, I'll fall in love with him.
How to Love a Duke in Ten Days (Read my Review) 
These men are dark, bold, and brave. And there is only one woman who can bring them to their knees…
Famed and brilliant, Lady Alexandra Lane has always known how to look out for to herself. But nobody would ever expect that she has darkness in her past—one that she pays a blackmailer to keep buried. Now, with her family nearing bankruptcy, Alexandra strikes upon a solution: Get married to one of the empire's most wealthy eligible bachelors. Even if he does have the reputation of a devil.
LOVE TAKES NO PRISONERS
Piers Gedrick Atherton, the Duke of Redmayne, is seeking revenge and the first step is securing a bride. Winning a lady's hand is not so easy, however, for a man known as the Terror of Torcliff. Then, Alexandra enters his life like a bolt of lightning. When she proposes marriage, Piers knows that, like him, trouble haunts her footsteps. But her gentleness, sharp wit, independent nature, and incredible beauty awakens every fierce desire within him. He will do whatever it takes to keep her safe in his arms.
Call Her Mine by Melissa Foster (Read my Review)
Ben Dalton has always been honest, except where his heart is concerned. He's been in love with his best friend—saucy, smart-mouthed Aurelia Stark—forever. But Ben's a planner, and timing has never been on his side. When he finally decides to make his move, Aurelia beats him to the punch with a move of her own—to a different town.
Aurelia loves her new life in the charming town of Harmony Pointe. She has a great apartment and her very own bookstore, and best of all, the sinfully hot, commitment-phobic friend she's crushed on for years is no longer just around the corner. Maybe she'll finally be able to leave her unrequited love behind and move on.
But when a baby is left on Ben's front porch—a baby that is presumably his—Aurelia is there for him. Neither one knows the first thing about babies, but how hard can it be? Ben and Aurelia are catapulted into a world of love, laughter, and tracking down the baby mama, and it might even add up to a very happily ever after… just not one either of them expects.
The Wallflower Wager by Tessa Dare (Read my Review) 
Tessa Dare's books might talk about wallflowers but they are the belle of the historical romance! The Wallflower Wager is charming, entertaining and deserves everyone's attention!
Penny lives isolated with her only companion her animals. Her furry friends are sometimes demanding and difficult but with her love, they all thrive. Now to tame the beast next door…
Gabriel is a ruthless businessman, a self-made man who takes whatever he wants except the aloof animal whisperer that lives right beside him. She provokes him like no other but she is a forbidden fruit that he wants to bite but cannot have a taste.
When she asks for his help finding a forever home for her animals, they are both in for an unforgettable adventure.
Penny is a hilarious heroine. She is witty, smart and forward for her times. She is not afraid to give her opinion, make decisive moves and be courageous. She has an open heart and a loving hand.
Gabriel might have started as poor and now everyone considers him as a scoundrel but the man has integrity. He treats her as a gentleman on the streets and as a beast on the sheets. He is loyal, protective and caring.
I have to comment about the steam of this book. Their sexy scenes are so unbelievably hot. Penny and Gabriel connect to all levels and their sensuality is so scorching! Prepare to fan yourselves!
Penny's animals bring so much joy to this book! They work as secondary characters especially the provoking parrot. You are going to laugh so much with their scenes.
The Wallflower Wager might be my favorite book by Tessa Dare so far! It combines the romance of history with a contemporary vibe and has a fantastic couple that will make you swoon!
Hold on to Hope by A.L. Jackson 
A best friends-to-lovers, stand-alone romance from New York Times Bestselling Author, A.L. Jackson . . . Evan Bryant wasn't your typical hero. But he was mine. Broken by the worlds' standards, he was still the strongest boy I would ever know. My best friend. The boy I'd given everything to. My heart, my body, and the promise of forever.The day I'd needed him most, he walked away. He left me shattered and questioning the love I'd thought we'd shared. Three years later, I wasn't prepared for him to return to Gingham Lakes.It wouldn't have mattered if he wasn't the most beautiful man I'd ever seen. My fingers still would have ached to caress his skin. My body still would have begged to get lost in his touch. And my heart . . . it would have always sung his name. But time changes things. With it, secrets that could ruin everything. Can we find a way to love again, or have the fears of our past stolen the hope of our forever . . .
Landon & Shay :Part One by Brittainy C. Cherry (Read my Review) 
Shay Gable hated my guts, and I hated hers, too.
We went out of our way to avoid one another at all times. When she came my direction, I went the other. When we locked eyes, she'd turn and walk away.
All of that changed the day I was presented with a challenge. It started out as a stupid bet: make Shay fall in love with me before I fell in love with her first.
That was an easy bet for me to win.
I didn't love, I hardly liked.
Yet slowly the game started to shift. Shay made me crave things I never knew I wanted.
Love.
Happiness.
Her.
The closer we grew, the more she challenged my darkness, and the parts I kept locked away.
The hurts.
The pains.
The truth.
The game between us became too real, our feelings intermixed, and the risks of hurting one another grew higher.
But you know what they say…
All's fair in the game of love and war—especially the heartbreaks.
(Book one in the L&S Duet)
Insatiable by Melanie Harlow (Read my Review) 
I didn't mean to see him naked–it was an accident.
It had to be, right?
Because Noah McCormick and I have never been anything more than friends. In all the years I've known him, he's never once laid a finger on me. And even though he was a cute lifeguard at 16 and a hotter-than-hell sheriff's deputy at 34, he's always been that protective guy I could trust to keep his hands to himself. I never wanted to mess with that.
Until I walked in on him getting out of the shower and saw his hard, muscular body totally bare and dripping wet. At that moment I never wanted to mess with anything so badly in my entire life.
I should have covered my eyes. Said I was sorry. At the very least, I could have handed him a towel.
After all, I was only in town for a few days, and he was just doing me a favor by escorting me to my sister's wedding. It wasn't a real date.
But I didn't apologize. And he didn't cover up.
(Talk about a hot mess.)
After all those years of being just friends, suddenly we're insatiable.
He's made it clear he's not interested in romance. Which is fine with me because
I've got a plane ticket back to my real life at the end of the week.
It's all in fun…or is it?
The Fire by R.J. Prescott (Read my Review) 
Evelyn Danaher lives a quiet, uneventful life. That is until she meets Tommy. The only man who makes her lose control of her temper and her knickers at the same time.
Tattooed, Irish firefighter Tommy Riordon found the woman of his dreams, then crashed and burned when a misunderstanding left him on his knees, clutching his balls.
They are wrong for each other in every way. But the very best love stores are the ones that shouldn't work. After all, the fire that doesn't kill you, makes you stronger.
Contemporary Romance. Contains sexual situations, violence, offensive language and mature topics. Recommended for age 18 years and up.
The Fire is the fourth book in The Hurricane series, and it is recommended that the series is read in the following order:
1. The Hurricane
2. The Aftermath
3. The Storm
4. The Fire
Down Too Deep by J. Daniels (Read my Review) 
Following the sudden death of his wife, Nathan Bell spent nearly two years burying himself in work and neglecting his biggest responsibility: his daughter. Overcome with guilt, he wants to connect with little Marley, but he doesn't know how to do it alone. And then Jenna Savage throws him a lifeline.
A single mum of twins, Jenna is more than capable of taking care of Nathan's adorable two-year-old and wants to help Nathan however she can. As the days go by and her attraction to Nathan grows, she can't help wondering what might happen if they became a family for real. And the closer everyone becomes, the more right it feels.
Falling in love forces Nathan to face his biggest fear, and when hearts – both big and little – are on the line, the only thing scarier than needing Jenna and her kids so much is losing them all.
Outmatched by Kristen Callihan & Samantha Young (Read my Review)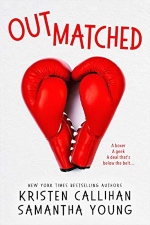 What happens when a boxer finds chemistry with a geek?
Parker Brown can't believe she needs to hire a fake boyfriend. When she landed her dream job in renewable energy, she thought she'd be entering a world at the forefront of progressive thinking. But the head boss prefers to promote employees who are "settled." Thankfully, she's found the perfect candidate, a fellow intellectual looking for some quick cash. What Parker gets is his protective big brother–Rhys Morgan. The tall, muscled ex-boxer with a foul mouth shows up just as her boss does, and now she's stuck with the manipulative jerk.
Responsibility weighs heavily on Rhys. Now permanently out of the ring, he's trying to hold together his late father's gym and keep his younger brother, Dean, on the straight and narrow. To save Dean from himself, Rhys takes his place, ready to give this society girl a piece of his mind. Instead, he finds an opportunity. Even though they can hardly stand each other, posing as Parker's boyfriend is a win-win deal. She gets to keep her job, and he'll charm her star-struck boss into sponsoring his gym.
Problem is, they can barely keep their hands off each other. And what started as an easy deal isn't so easy anymore. Because what future can a rough ex-boxer, afraid to open his heart, and a polished society geek, who has sworn off real relationships, possibly have?
They say opposites attract. These opposites are about to combust on impact.
Gilded Lily by Staci Hart (Read my Review) 
They say there's no such thing as perfect.
But I've built my life to perfection—the perfect boyfriend, the perfect apartment, the perfect career planning celebrity weddings. My job—my only job—is to make sure every event is absolutely and completely perfect.
What's not perfect? Kash Bennet.
And I wish I didn't find that so appealing.
I could have told you every perfectly imperfect thing about the gardener at Longbourne. Like his hair, lush and black and far too long. Or his nose, the flat bridge of a Greek god, bent a little like it's been broken. Or his size. Beastly. Roped and corded with muscles, gleaming with sweat and peppered with dirt. There's no escaping him, not if I'm going to use his family's flower shop for my events.
But nothing is what it seems. And in the span of a heartbeat, my perfect life is turned inside out. They say the best way to get over somebody is to get under somebody new. When Kash offers his services to the cause, it sounds like the perfect plan.
What's not part of the plan? Falling in love with the gardener.
But they were right—there's no such thing as perfect.
And I'm the fool who finds out the hard way.