Mist of the Serengeti by Leylah Attar (My Review)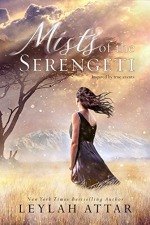 Once in Africa, I kissed a king…
"And just like that, in an old red barn at the foothills of Mount Kilimanjaro, I discovered the elusive magic I had only ever glimpsed between the pages of great love stories. It fluttered around me like a newborn butterfly and settled in a corner of my heart. I held my breath, afraid to exhale for fear it would slip out, never to be found again."
When a bomb explodes in a mall in East Africa, its aftershocks send two strangers on a collision course that neither one sees coming.
Jack Warden, a divorced coffee farmer in Tanzania, loses his only daughter. An ocean away, in the English countryside, Rodel Emerson loses her only sibling.
Two ordinary people, bound by a tragic afternoon, set out to achieve the extraordinary, as they make three stops to rescue three children across the vast plains of the Serengeti—children who are worth more dead than alive.
But even if they beat the odds, another challenge looms at the end of the line. Can they survive yet another loss—this time of a love that's bound to slip through their fingers, like the mists that dissipate in the light of the sun?
"Sometimes you come across a rainbow story—one that spans your heart. You might not be able to grasp it or hold on to it, but you can never be sorry for the color and magic it brought."
A blend of romance and women's fiction, Mists of The Serengeti is inspired by true events and contains emotional triggers, including the death of a child. Not recommended for sensitive readers. Standalone, contemporary fiction.
To Hate Adam Connor by Ella Maise
So you may ask, who is Adam Connor? He is the recently divorced, Academy Award-winning actor who just moved in next door with his kid. He also happens to be an exquisite male specimen and the most infuriating sly bastard I've ever come across.
Let's be honest here, wouldn't you wanna take a peek over the wall to catch a glimpse of him, hopefully when he is naked? Wouldn't you melt away after watching him work out as his five-year-old kid cheered him on? Do I even have to mention those abs, the big bulge in his pants, or that arm porn? Oh, wait, you would never spy on him? Sure…
While I was being thoughtful by not breaking and entering and was actually considering going over to offer him a shoulder—or maybe a boob or two—to cry on (y'know, because of his divorce), instead he had me thrown in jail after a small incident. Jail, people! He was supposed to grant me countless orgasms as a thank you, not a jail cell.
After that day, I was mentally plotting ways to strangle him instead of jumping his bones to make sweet love. So what if my body did more than just shiver when he whispered dirty little things in my ear? I can't be held responsible for that. And when was the last time he'd kissed anyone anyway? Who'd enjoy a kiss with a side of heart attack?
Even if he and his son were the best things since sliced bread—and I'm not saying he was—I couldn't fall for him. No matter what promises he whispered on my skin, my curse wouldn't let us be. I wasn't a damsel in distress—I could save myself, thank you very much—but deep inside, I still hoped Adam Connor would be the hero of my story.
Kick, Push by Jay McLean
There's a single defining moment within every skater.
It lasts only a second. Two if you're good.
Three if you're really good.
It's the moment you're in the air, your board somewhere
beneath you, and nothing but wind surrounds you.
It's the feeling of being airborne.
The sixteen-year-old version of me would've said it was the
greatest feeling in the world.
Then at seventeen, I had my son.
And every single second became a defining moment. Even the ones that consisted of heartbreak when his mother left us.
Seventeen. Single. Dad.
That's what my life became.
Yet, every day, I managed to find that feeling of being
airborne.
Or at least I convinced myself I did.
But I lied—to myself and to everyone around me.
Until she showed up; Tanned skin, raven dark hair, and eyes the color of emeralds.
You know what sucks about being in the air?
Coming down from the high.
Sometimes you land on the board and nail the trick.
Then kick, push, and coast away.
Other times you fall.
You fall hard.
And those are the times when it's not as easy to get back up, dust off your pads and try again.
Especially when the girl with the emerald eyes becomes your drug…
And you become her poison.
Back to You by Priscilla Glenn
When Lauren Monroe first laid eyes on Michael Delaney back in high school, she had every reason to stay away from him; within minutes of their first encounter, his volatile actions confirmed his notorious reputation. But Lauren saw something in him that caused her to question his bad-boy persona, and against her better judgment, she took a chance. She had no way of knowing that the unlikely friendship they formed would become so important to her.
Or that it would end so painfully.
Eight years later, when Lauren begins her new job at Learn and Grow Day Care, Michael is the last person she expects to see. Refusing to revisit the hurt and confusion of their past, Lauren vows to keep her distance from him. But staying away from Michael proves to be more difficult than she thought, despite her lingering grief and her instincts for self-preservation.
As Lauren and Michael recall the friendship that changed them forever and the events that tore them apart, will they finally be able to heal? Or will the ghosts of Michael's past prove to be too much to overcome?
The Sexy One by Lauren Blakely 
Let me count the ways why falling into forbidden love is not my wisest move…
1. She works with me every single day.
Did I mention she's gorgeous, sweet, kind and smart?
2. She works in my home.
Playing with my five-year-old daughter. Teaching my little girl. Cooking for my princess. Which means…
3. She's the nanny.
And that makes her completely off-limits…But it doesn't stop me from wanting her. All of her.
*****
The other nannies in this city don't call him The Sexy One for nothing. My boss, the amazingly wonderful single father to the girl I take care of every day is ridiculously hot, like movie star levels with those arms, and those eyes, and that body. Not to mention, the way he dotes on his little girl melts me all over. But what really makes my knees weak are the times when his gaze lingers on me. In secret. When no one else is around.
I can't risk my job for a chance at something more…can I? But I don't know how to resist him much longer either…
Fall from India Place by Samantha Young
When Hannah Nichols last saw Marco D'Alessandro five long years ago, he broke her heart. The bad boy with a hidden sweet side was the only guy Hannah ever loved—and the only man she's ever been with. After one intense night of giving in to temptation, Marco took off, leaving Scotland and Hannah behind. Shattered by the consequences of their night together, Hannah has never truly moved on.
Leaving Hannah was the biggest mistake of Marco's life—something he has deeply regretted for years. So when fate reunites them, he refuses to let her go without a fight.  Determined to make her his, Marco pursues Hannah, reminding her of all the reasons they're meant to be together….
But just when Marco thinks they're committed to a future together, Hannah makes a discovery that unearths the secret pain she's been hiding from him—a secret that could tear them apart before they have a real chance to start over again….
Until Lilly by Aurora Rose Reynolds
When Cash Mayson was forced to choose between the love of his life and his unborn child, he knew exactly what he had to do. No matter how broken it left him.
When Lilly Donovan was forced to accept that the guy she loved wasn't who she thought he was and became a single mother, she knew exactly what she had to do. Proving just how strong she was.
What happens when years later you find out that everything you thought you knew was a lie?
Can two people who once loved each other overcome the obstacles that are thrown at them and fall in love all over again?
Cash Mayson had forgotten how it felt to be loved Until Lilly came back into his life. And now that he remembers, he will do everything within his power to keep not only the woman that he loves, but also his children.
The power of love is a beautiful thing.
Recommended for 17+ due to sexual content and language.
The Gravity of Us by Brittainy Cherry (My Review)
Graham Russell and I weren't made for one another.
I was driven by emotion; he was apathetic. I dreamed while he lived in nightmares. I cried when he had no tears to shed.
Despite his frozen heart and my readiness to run, we sometimes shared seconds. Seconds when our eyes locked and we saw each other's secrets. Seconds when his lips tasted my fears, and I breathed in his pains. Seconds when we both imagined what it would be like to love one another.
Those seconds left us floating, but when reality knocked us sideways, gravity forced us to descend.
Graham Russell wasn't a man who knew how to love, and I wasn't a woman who knew how to either. Yet if I had the chance to fall again, I'd fall with him forever.
Even if we were destined to crash against solid ground.
Incandescent by River Savage
Phoenix 'Nix' Knight thought pulling his club out of the illegal shit his Pops got them into was difficult.
Until he meets Kadence.
Kadence Turner has no business lusting over a student's father, especially the president of the Knights Rebels MC. Nix is crass, obnoxious and dangerously sexy and for some reason, Kadence can't seem to hate him for it. The bossy biker breaks down her defenses, but unlike the old Kadence, the woman she is today won't give in without a fight.
The tension is undeniable, the attraction fierce. A man that wants what he wants and a woman that will fight him every step of the way.
Built by Jay Crownover 
Sayer Cole and Zeb Fuller couldn't be more different. She's country club and fine-dining, he's cell-block and sawdust. Sayer spends her days in litigation, while Zeb spends his working with his hands. She's French silk, he's all denim and flannel.
Zeb's wanted the stunning blonde since the moment he laid eyes on her. It doesn't matter how many smooth moves he makes, the reserved lawyer seems determinedly oblivious to his interest—either that or she doesn't return it. Sayer is certain the rough, hard, hot-as-hell Zeb could never want someone as closed off and restrained as she is, which is a shame because something tells her he might be the guy to finally melt her icy exterior.
But just as things start to heat up, Zeb is blindsided by a life altering moment from his past. He needs Sayer's professional help to right a wrong and to save more than himself. He can't risk what's at stake just because his attraction to Sayer feels all consuming. But as these opposites dig in for the fight of their lives, battling together to save a family, the steam created when fire and ice collide can no longer be ignored.
Some Sort of Love by Melanie Harlow
You might think I had it all—a career I loved, a supportive family, the Nixon metabolism but not the Nixon ears, and a salary that supported my lavish taste in designer shoes, fine wine, and lacy lingerie … but I had no one to share it with.
Until the day I ran into him—my one night stand from college with the crooked smile, let's-get-out-of-here eyes, and dirty, dirty mouth.
Cute and cocky then, today Levi Brooks is six feet four inches of hot bearded fantasy. A sexy single dad with broad shoulders, strong hands, and a fantastically big … heart. (I mean, it's massive. And generous. And it pumps so hard … um. Sorry. Lost my place.)
Being a good father means everything to him, but he's keeping me at a distance because he thinks I deserve someone better — a man who can give me more time, more attention, more of himself. He doesn't believe he could ever be enough.
But he's wrong.
He's everything.
Shameless by Lex Martin 
Brady…
What the hell do I know about raising a baby? Nothing. Not a goddamn thing.
Yet here I am, the sole guardian of my niece. I'd be lost if it weren't for Katherine, the beautiful girl who seems to have all the answers. Katherine, who's slowly finding her way into my cynical heart.
I keep reminding myself that I can't fall for someone when we don't have a future. But telling myself this lie and believing it are two different things.
Katherine…
When Brady shows up on a Harley, looking like an avenging angel—six feet, three inches of chiseled muscle, eyes the color of wild sage, and sun-kissed skin emblazoned with tattoos—I'm not sure if I should fall at his feet or run like hell. Because if I tell him what happened the night his family died, he might hate me.
What I don't count on are the nights we spend together trying to forget the heartache that brought us here. I promise him it won't mean anything, that I won't fall in love.
I shouldn't make promises I can't keep.
Be My Hero by Linda Kage
Once upon a time, there was this pampered rich girl who was kind of full of herself. She really only cared about appearances and hiding all her dark, ugly secrets under the guise of an opinionated snob. But then Eva Mercer got pregnant, shot by a psycho, and kicked out of the only home she knew. Now she's broke, unemployed, and has to start anew with a newborn to raise. But how?
On the other side of town, sexy, tattooed orphan, Patrick Ryan, can't get a break. He's out on parole for defending the last damsel in distress while trying to help her support her child, but all he wants is to find his one true love. He knows this woman by scent, smile, and laugh, but he's never actually met her. He doesn't even know her name. He just knows she's the key to fixing everything.
One kind of hero can save you from physical harm. Another can rescue you from a different kind of doom. To reach their dreams, Eva and Pick can save each other. But first, they must open their hearts and learn how to trust.
Mack Daddy by Penelope Ward 
They called him Mack Daddy. No, seriously, his name was Mack. Short for Mackenzie. Thus, the nickname. Perfect, right?
So was he: perfect. The perfect physical male specimen.
At the private school where I taught, Mack Morrison was the only man around in a sea of women.
Everyone wanted a piece of the hot, single father of the sweet little boy.
I became a woman I didn't recognize, someone riddled with jealousy, because they didn't know that–to me–he was much more.
They didn't know about our past.
He'd chosen my school for his son on purpose, because Mack and I, we had unfinished business.
As my friend, Lorelai, so eloquently put it: "Unfinished business between two people who are clearly attracted to each other is like an eternal case of blue balls." And I was suffering in pain from my case.
I was still intensely attracted to Mack. I tried to resist him, immersing myself further into a relationship with someone else just to protect my heart.
Not to mention, getting involved with a parent was strictly against school rules. But seeing Mack day in and day out was breaking me down.
And soon I might be breaking all the rules.
Where I Belong by J.Daniels 
When Mia Corelli returns to Alabama for a summer of fun with her childhood best friend, Tessa, there's only one thing keeping her on edge. One person that she'd do anything to avoid.
Benjamin Kelly. World's biggest dickhead.
Mia hates him with a fury and has no desire to ever see him again. When she decides to start her summer off with a bang and finally give away her v-card, she unknowingly hands it over to the one guy that excelled at making her life miserable, learning a valuable lesson in the process.
Always get the name of the guy you're going home with.
Ben can't get the girl he spent one night with out of his head. When she leaves him the next morning, he thinks he'll never see her again. Until he sees her lounging by the pool with his sister.
Mia is determined to hate Ben, even though she can't forget him.
Ben is determined to prove he's not the same guy he used to be.
What happens when the one person you wish never existed becomes the one person you can't imagine being without?
Zack by Sawyer Bennett 
Rising star Zack Grantham has been stuck in a downward spiral of grief that has put his career on hold. Back on the road with the Carolina Cold Fury, still crippled by emotional baggage, and now a single dad, he's in need of some serious help with his son. But while the nerdy new nanny wins his son's heart, Zack isn't sure he's ready for a woman's touch—even after getting a glimpse of the killer curves she's hiding under those baggy clothes.
Kate Francis usually keeps men like Zack at a distance. Though his athlete's body is honed to perfection, he refuses to move on with his life—and besides, he's her boss. Still, the sparks between them are undeniable, tempting Kate to turn their professional relationship into a personal one. But before she makes a power play for Zack's wounded heart, Kate will have to open him up again and show him that love is worth the fight
Motorcycle Man by Kristen Ashley
Tyra Masters has had enough drama to last a lifetime. Now, she's back on track and looking forward to her new, quiet life. Until she meets the man of her dreams. The tattooed, muscled biker plies her with tequila-and the best sex of her life. She knows it isn't the tequila and hot sex talking. He's the kind of man she's always wanted. Unfortunately, he's also her new boss . . .
Kane "Tack" Allen has a rule. He doesn't employ someone he's slept with. So when he learns he spent last night in bed with his new office manager, he quickly fires Tyra. Yet when Tyra stands up to him and fights for her job, Tack is intrigued. He tells her she can keep her job on one condition: no more sex. Ever. But as things heat up between them, Tack finds that he'll be the one breaking all the rules…
Tru Blue by Melissa Foster (My Review)
He wore the skin of a killer, and bore the heart of a lover…
There's nothing Truman Gritt won't do to protect his family–Including spending years in jail for a crime he didn't commit. When he's finally released, the life he knew is turned upside down by his mother's overdose, and Truman steps in to raise the children she's left behind. Truman's hard, he's secretive, and he's trying to save a brother who's even more broken than he is. He's never needed help in his life, and when beautiful Gemma Wright tries to step in, he's less than accepting. But Gemma has a way of slithering into people's lives and eventually she pierces through his ironclad heart. When Truman's dark past collides with his future, his loyalties will be tested, and he'll be faced with his toughest decision yet.
Beautiful Broken Promises by Kimberly Lauren
Lane Parker has suffered a terrible loss: a loss he can't get over, not even years later. Burdened by secrets he won't tell his closest friends and focused on only one goal, he finally gets the phone call he's been waiting for. Luck gives him a precious second chance to get back what was taken from him—and he'll use all his strength to make sure that the tragedy never happens again.
Raegan Hayes is a spirited fighter and survivor—and she's furious at Lane, her former employer, after their paths cross at a police station and he accuses her of betrayal. Now, they both must move forward to get past the tragic incident that tore them apart long ago. But the more time Lane spends with the beautiful Raegan, the more he becomes drawn to her…and the more his passion overpowers his hostility. Can a new beginning transform their relationship from suspicion-filled to steamy?
Show Me the Way by A.L. Jackson (Read my Review)
Rex Gunner. As bitter as he is beautiful.
The owner of the largest construction company in Gingham Lakes has been burned one too many times. His wife leaving him to raise their daughter was the last blow this single dad could take. The only woman he'll let into his heart is his little girl.
Rynna Dayne. As vulnerable as she is tempting.
She ran from Gingham Lakes when she was seventeen. She swore to herself she would never return. Then her grandmother passed away and left her the deed to the diner that she once loved.
When Rex meets his new neighbor, he knows he's in trouble.
She's gorgeous and sweet and everything he can't trust.
Until she becomes the one thing he can't resist.
One kiss sends them tumbling toward ecstasy.
But in a town this size, pasts are bound to collide. Caught in a web of lies, betrayal, and disloyalty, Rex must make a choice.
Will he hide behind his walls or will he take the chance . . .
Forever Right Now by Emma Scott (Read my Review)
Darlene Montgomery has been to hell and back…more than once. After a stint in jail for drug possession, she is finally clean and ready to start over. Yet another failed relationship is just the motivation she needs to move from New York to San Francisco with the hopes of resurrecting her dance career and discovering that she is more than the sum of her rap sheet. As Darlene struggles in her new city, the last thing she wants is to become entangled with her handsome—but cranky—neighbor and his adorable little girl…
Sawyer Haas is weeks away from finishing law school, but exhaustion, dwindling finances, and the pressure to provide for himself and his daughter, Olivia, are wearing him down. A federal clerkship–a job he desperately needs–awaits him after graduation, but only if he passes the Bar Exam. Sawyer doesn't have the time or patience for the capricious—if beautiful—dancer who moves into the apartment above his. But Darlene's easy laugh and cheerful spirit seep into the cracks of his hardened heart, and slowly break down the walls he's resurrected to keep from being betrayed ever again.
When the parents of Olivia's absentee mother come to fight for custody, Sawyer could lose everything. To have any chance at happiness, he must trust Darlene, the woman who has somehow found her way past his brittle barbs, and Darlene must decide how much of her own bruised heart she is willing to give to Sawyer and Olivia, especially when the ghosts of her troubled past refuse to stay buried.
Ride Wild by Laura Kaye (Read my Review)
Brotherhood. Club. Family.
They live and ride by their own rules.
These are the Raven Riders…

Wild with grief over the death of his wife, Sam "Slider" Evans merely lives for his two sons. Nothing holds his interest anymore—not even riding his bike or his membership in the Raven Riders Motorcycle Club. But that all changes when he hires a new babysitter.
Recently freed from a bad situation by the Ravens, Cora Campbell is determined to bury the past. When Slider offers her a nanny position, she accepts, needing the security and time to figure out what she wants from life. Cora adores his sweet boys, but never expected the red-hot attraction to their brooding, sexy father. If only he would notice her…
Slider does see the beautiful, fun-loving woman he invited into his home. She makes him feel too much, and he both hates it and yearns for it. But when Cora witnesses something she shouldn't have, the new lives they've only just discovered are threatened. Now Slider must claim—and protect—what's his before it's too late.
Shelter by Jay Crownover (Read my Review)
His life is chaos and confusion. It's a storm of uncertainty and raging emotion.
Sutton Warner is a mess. Everything in his life feels like it's unraveling.
He's let a lot of people down lately, including his daughter. Sutton always promised his little girl he would never disappoint her and that he would always be there when she needed him. Until he wasn't.
The truth is, he's used to disappointing the women in his life. First was his mother who couldn't find a reason to stick around when he was growing up. Then there's his ex. The woman who takes unbridled delight in making his life incredibly complicated. Luckily, his daughter is still young enough to believe her old man is some kind of hero. But, he knows the day is coming when she realizes the truth, which is, he's just a man with some serious flaws and a list of ever-growing weaknesses.
Finally, there's the woman he's desperately trying to forget with every shot tossed back and each pill popped.
He more than disappointed Emrys…he almost got her killed.
Her love is steady and sure. It's a shelter shaped by conviction and silent assurance.
Emrys Santos is lost. Everything in her life feels pointless and futile.
She's been busy running away from her feelings and all the people who love her the most—including her best friend, the one person who knows exactly what she's been through. They promised to always stick together and to lean on one another. It was a promise Em had to break so she could lick her wounds and figure out her next move. For once, there is no easy way out of the tangled web of emotions she's caught up in, and right now, she recognizes that all roads lead back to Wyoming…and back to Sutton.
The man she nearly got killed.
Shelter is a standalone novel, the second book in the Getaway series, which features the hardheaded and brokenhearted Warner brothers and the women who dare to love them. These boys are very good at putting the wild in wilderness.
Look the Part by Jewel E. Ann ( Read my Review)
Flint Hopkins finds the perfect tenant to rent the space above his Minneapolis-based law office.
All the t's are crossed and i's dotted on Ellen's application. Her references are good. And she's easy on the eyes.
Until …
Flint discovers Ellen Rodgers, Board-Certified Music Therapist, plays music. Bongos, guitars, singing—not Beethoven administered through noise-cancelling headphones.
The cut-throat attorney serves up an eviction notice to the bubbly, constantly-humming redhead who's too sexy for her own good. But luck is on Ellen's side when Flint's autistic son, Harrison, takes an instant liking to her. A single dad can't compete with guitars—and rats. Yes, she has pet rats.
This woman …
She's annoyingly happy with a constant need to touch him—adjust his tie, button his shirt, invade his space, and mess with his mind.
Still …
She must go.
Their lust-hate relationship escalates into something beautiful and tragic. This sexy, romantic-comedy explores the things we want, the things we need, and the impossible decisions parents and children make to survive.
Reckless by Lex Martin (Read my Review)
Tori…
For the record, I'm not going to hook up with my boss.
I'm a lot of things—a screwup, a basket case, a flunky. But when I take a nanny job to be near my pregnant sister, I swear to myself I'll walk the straight and narrow, which means I cannot fall for my insanely hot boss.
I don't want to be tempted by that rugged rancher. By his chiseled muscles or southern charm or the way he snuggles his kids at bedtime. Ethan Carter won't get the key to my heart, no matter how much I want him.
Ethan…
Between us, she's the last thing I need as I finalize my hellish divorce.
What sane man trying to rebuild his life wants a hot nanny with long, sexy hair, curves for miles, and a smart mouth? A perfectly kissable, pouty mouth that I shouldn't notice.
My focus is on my kids and my ranch, not the insufferable siren who sleeps in the room next to mine. It doesn't matter that she wins over my kids in a heartbeat or runs my life better than I do. Tori Duran is the one woman I can't have and shouldn't want, no matter how much I crave her.