Shelter by Jay Crownover (Read my Review)
His life is chaos and confusion. It's a storm of uncertainty and raging emotion.
Sutton Warner is a mess. Everything in his life feels like it's unraveling.
He's let a lot of people down lately, including his daughter. Sutton always promised his little girl he would never disappoint her and that he would always be there when she needed him. Until he wasn't.
The truth is, he's used to disappointing the women in his life. First was his mother who couldn't find a reason to stick around when he was growing up. Then there's his ex. The woman who takes unbridled delight in making his life incredibly complicated. Luckily, his daughter is still young enough to believe her old man is some kind of hero. But, he knows the day is coming when she realizes the truth, which is, he's just a man with some serious flaws and a list of ever-growing weaknesses.
Finally, there's the woman he's desperately trying to forget with every shot tossed back and each pill popped.
He more than disappointed Emrys…he almost got her killed.
Her love is steady and sure. It's a shelter shaped by conviction and silent assurance.
Emrys Santos is lost. Everything in her life feels pointless and futile.
She's been busy running away from her feelings and all the people who love her the most—including her best friend, the one person who knows exactly what she's been through. They promised to always stick together and to lean on one another. It was a promise Em had to break so she could lick her wounds and figure out her next move. For once, there is no easy way out of the tangled web of emotions she's caught up in, and right now, she recognizes that all roads lead back to Wyoming…and back to Sutton.
The man she nearly got killed.
Shelter is a standalone novel, the second book in the Getaway series, which features the hardheaded and brokenhearted Warner brothers and the women who dare to love them. These boys are very good at putting the wild in wilderness.
The Bitterroot Inn by Devney Perry (Read my Review)
Her past. His secrets. They have more in common than she knows.
Maisy is happily content with the life she's built for herself and her young son in small-town Prescott, Montana. Her child is thriving, her business is growing, and her family is as close as they've ever been. But when a handsome stranger walks into the lobby of her motel, her simple life is swept up in a wave of affection for his gentle heart. None of those feelings can be trusted, though. She made that mistake before with another man. The man she murdered.
Hunter was a different man when he first saw Maisy Holt from afar. He took one look at her and ran in the opposite direction. But years later, he's back in Montana and unable to keep his distance. He shouldn't have tried to find her but he never was good at rejecting temptation. The promise of the good she could bring into his life is too hard to resist. Maybe if he can disguise the lies and hide the deceit, he can keep her from learning the truth. Because his only chance at a future with her is by burying his past.
Bad for You by J. Daniels (Read my Review)
He didn't want to be bad. He just didn't have a choice…
Shayla Perkins isn't the kind of girl who makes the same mistake twice, especially when it comes to Sean "Stitch" Molina. So when he gives her the world's biggest rejection, that's it–she's done. Until the sexy, silent, unavailable Sean makes Shay a very personal offer. Of course, it still doesn't mean he's interested in her. Or does it?
Sean has done things in life. Bad things. And he's paid the price. All he wants now is to make up for his past by doing good in the present. And no one deserves more good than Shay. Beautiful on the inside and out, Shay is the kind of woman who should be cared for and protected–especially from a man like Sean. He's tried to keep his feelings for her in check, but a single, reckless impulse pulls them closer than ever before.
Soon the two are sharing their biggest dreams and satisfying their deepest desires. But what will happen if the only way to truly give each other what they want most…is to let each other go?
Follow Me Back by A.L. Jackson (Read my Review)
The next seductive, unforgettable stand-alone romance in the FIGHT FOR ME series from NYT & USA Today Bestselling Author A.L. Jackson . . .
Kale Bryant. Arrogant. Gorgeous. Commanding.
This ER doctor is married to his job. His only vice is one-night stands and short-lived flings. He learned a long time ago loving someone isn't worth the risk.
Harley Hope Masterson. Beautiful. Brave. Sweet.
The owner of a small coffee shop knows what it's like to struggle. Embroiled in a bitter divorce, she's threatened with losing everything.
When Kale accepts a new position down the street from Hope's shop, he begins to question every wall he's built around his heart.
He wants her in a way he hasn't wanted anyone.
One touch is fire.
One kiss, and he's spinning out of control.
But taking her won't come without consequences.
Hope is in for the fight of her life. One neither of them saw coming.
Now Kale must decide if loving her is worth risking it all.
She will fight with everything she has.
But sometimes even hope needs a hero . . .
The Smallest Part by Amy Harmon (Read my Review)
"In the end, only three things matter. How much you loved, how gently you lived, and how gracefully you let go of things not meant for you."
– Unknown
It was a big lie. The biggest lie she'd ever told. It reverberated through her head as she said it, ringing eerily, and the girl behind her eyes—the girl who knew the truth—screamed, and her scream echoed along with the lie.
"Are you in love with Noah, Mercedes?" Cora asked. "I mean . . . I know you love him. You've been friends forever. We all have. But are you in love with him?"
If it had been anyone else—anyone—Mercedes would have stuck out her chest, folded her skinny arms, and let her feelings be known. She would have claimed him. But it was Cora. Brave, beautiful, broken Cora, and Cora loved Noah too.
So Mercedes lied.
And with that lie, she lost him. With that lie, she sealed her fate.
She was the best friend, the bridesmaid, the godmother, the glue. She was there for the good times and the bad, the ups and the downs, the biggest moments and the smallest parts. And she was there when it all came crashing down.
This is the tale of the girl who didn't get the guy.
A Crack In Everything by L.H. Cosway (Read my Review)
Life used to be simple.
I was a city girl with humble dreams. Then Dylan O'Dea broke into my flat, held me against the wall and told me to stay quiet.
It was like in the movies, where the universe zeros in on a single scene. I looked into his eyes and knew he was going to change me.
For Dylan, the sky was always falling. He showed me how our world is a contradiction of beauty and ugliness. How we choose to ignore the awful and gloss over it with the palatable. How you need just a tiny drop of something unsavoury to create every great scent.
Pretty deep for a pair of teenagers living in a block of council flats in inner city Dublin, right? Probably. But we weren't typical. We both had our obsessions. Mine was growing things, Dylan's was scent. He taught me how to use my nose, and I introduced him to the magic of flowers.
I had no idea that one day he'd build an empire from what we started together. But before that, there was love and happiness, tragedy and epic heartbreak…
My name is Evelyn Flynn and I'm going to tell you about the crack in everything.
***A Crack in Everything is Book #1 in L.H. Cosway's Cracks duet.***
Look the Part by Jewel E. Ann (Read my Review)
Flint Hopkins finds the perfect tenant to rent the space above his Minneapolis-based law office.
All the t's are crossed and i's dotted on Ellen's application. Her references are good. And she's easy on the eyes.
Until …
Flint discovers Ellen Rodgers, Board-Certified Music Therapist, plays music. Bongos, guitars, singing—not Beethoven administered through noise-cancelling headphones.
The cut-throat attorney serves up an eviction notice to the bubbly, constantly-humming redhead who's too sexy for her own good. But luck is on Ellen's side when Flint's autistic son, Harrison, takes an instant liking to her. A single dad can't compete with guitars—and rats. Yes, she has pet rats.
This woman …
She's annoyingly happy with a constant need to touch him—adjust his tie, button his shirt, invade his space, and mess with his mind.
Still …
She must go.
Their lust-hate relationship escalates into something beautiful and tragic. This sexy, romantic-comedy explores the things we want, the things we need, and the impossible decisions parents and children make to survive.
Reckless by Lex Martin (Read my Review)
Tori…
For the record, I'm not going to hook up with my boss.
I'm a lot of things—a screwup, a basket case, a flunky. But when I take a nanny job to be near my pregnant sister, I swear to myself I'll walk the straight and narrow, which means I cannot fall for my insanely hot boss.
I don't want to be tempted by that rugged rancher. By his chiseled muscles or southern charm or the way he snuggles his kids at bedtime. Ethan Carter won't get the key to my heart, no matter how much I want him.
Ethan…
Between us, she's the last thing I need as I finalize my hellish divorce.
What sane man trying to rebuild his life wants a hot nanny with long, sexy hair, curves for miles, and a smart mouth? A perfectly kissable, pouty mouth that I shouldn't notice.
My focus is on my kids and my ranch, not the insufferable siren who sleeps in the room next to mine. It doesn't matter that she wins over my kids in a heartbeat or runs my life better than I do. Tori Duran is the one woman I can't have and shouldn't want, no matter how much I crave her.
Ride Dirty by Laura Kaye (Read my Review)
Caine McKannon is all about rules. As the Raven Riders Sergeant-at-Arms, he prizes loyalty to his brothers and protection of his club. As a man, he takes pleasure wherever he can get it but allows no one close—because distance is the only way to ensure people can't hurt you. And he's had enough pain for a lifetime.
But then he rescues a beautiful woman from an attack.
Kids and school are kindergarten teacher Emma Kerry's whole life, so she's stunned to realize she has an enemy—and even more surprised to find a protector in the intimidating man who saved her. Tall, dark, and tattooed, Caine is unlike any man Emma's ever known, and she's as uncertain of him as she is attracted. As the danger escalates, Caine is in her house more and more – until one night of passion lands him in her bed.
But breaking the rules comes at a price, forcing Caine to fight dirty to earn a chance at love.
Recovered by Jay Crownover (Read my Review) 
It was hate at first sight……
Affton
I hated Cable James McCaffrey.
He was entitled, spoiled, a user…and an addict.
He was out of control and didn't bother trying to hide it.
He had everything anyone could want but still seemed miserable and lost.
Every move he made, every mistake he stumbled his way through, rubbed me the wrong way. However, I couldn't stop myself from trying to save him from himself when no one else would. In the sweltering heat of the summer, Cable taught me that having it all means nothing if you can't have the one thing you want more than anything else.
Cable
I was obsessed with Affton Reed.
She was rigid, uptight, and no fun. There was something about her innate goodness that called to me.
She acted like she was above all the normal faults and failures that clung to the rest of us like the scent of smoke after a fire.
I was infatuated with her, but that didn't stop me from acting like she didn't exist.
In the scorching heat of summer, Affton taught me that there is always a way back from the brink of despair. She showed me that the trick to having it all was realizing that it was already there, in my hands. All I had to do was hold onto it.
The road to recovery is full of twists and turns no matter who is in the driver's seat
The Birthday List by Devney Perry (Read my Review)
Happily married to her college sweetheart, Poppy lived a blessed life with the husband of her dreams. Then everything changed. She is no longer a wife. She is no longer the envy of her single friends. Now, people look at her with pity as they whisper a single word behind her back.
Widow.
Years after her husband's tragic death, years of pain and sorrow and wishing for the life she'll never get back, Poppy decides to finish Jamie's birthday list. She'll do the things he wanted to most. Because maybe, just maybe, if she can complete his list, she can start to live again.
Poppy expects going through the birthday list will be hard. She expects it to hurt. But what she doesn't expect is Cole. Could the man who delivered the news of her husband's death and shattered her heart be the one to help her put it back together again?
Smiling Irish by Katy Regnery (Read my Review)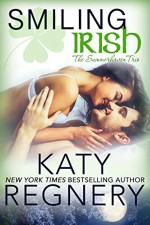 From the New York Times bestselling author of The Blueberry Lane series comes a new trio of romances featuring the Haven triplets!
Tierney Haven and Burr O'Leary come from completely different worlds…
…but there's a reason they say "opposites attract."
Bookish Tierney Haven has always preferred places to people, and she especially loves the peace and quiet of Moonstone Manor, an estate museum located in the White Mountains of New Hampshire, where she is head docent, chief historian and live-in caretaker. The very last thing she expects to find on her doorstep in the middle of the night is bruised and bloodied stranger, Burr O'Leary, in desperate need of her help.
Against her better judgement and at the risk of her brothers' wrath, Tierney offers Burr sanctuary at Moonstone Manor, and nurses him back to health, surprised to discover that the dashing, enigmatic stranger loves the history and peace of Moonstone as much as she. But Burr has a dark history, and those who hurt him will stop at nothing to eliminate him…placing Tierney in grave danger until he is well enough to find them first.
Getaway Girl by Tessa Bailey (Read my Review)
This unlikely getaway driver never expected to help the mayor escape…
After a six-year absence, Addison Potts is back in Charleston to stir things up. And what better place to make her villainous return than her estranged cousin's wedding? Only, the nuptials hit a snag when the bride doesn't show, leaving Addison to play getaway driver for the jilted groom. A groom whose heartbreaking smile and deep, southern drawl she should not be noticing…
Elijah Montgomery Du Pont is the future mayor of Charleston. From his military career to city hall, every detail of his life has been meticulously planned. Until now. His only respite from life's sudden upheaval is Addison, his new, improbable best friend. She makes him happy. Grounds him. And public disapproval be damned, he's not willing to give her up. But with an election on the line and public pressure rising, Addison—and the cruel hand of fate—might not give him a choice.
Lennon Reborn by Scarlett Cole (Read my Review) 
Lennon McCartney is not a broken man. Because being broken implies being whole once. When a horrific accident deprives him of the one thing he loves—his talent as a fierce and explosive drummer—Lennon is left with a life chained by an abusive mother, by crushing guilt over a tragic past. A life he doesn't want.
Dr. Georgia Starr is a legend. She's one of the most successful neurosurgeons in the world, coming from a long-line of respected New York doctors. Her life is built around solving complex medical cases in order to bring relief and hope to sick children. But the one problem she can't solve is how to live her life. How to be shake loose the burden of being her elitist, arrogant father's daughter. How to be free.
Can a man who despises his life and a woman who desperately needs to live find the answers, and love, with each other?
**Warning: Deals with dark themes and deep personal struggles.**
The Real by Kate Stewart (Read my Review)
They say it happens when you least expect it.
It did for me.
It started the moment I saw the simple message pop up on my computer screen:
Cameron's Mac: Hi.
And when I met the eyes of the gorgeous man messaging me from across the coffee shop, I never thought my reply would lead to the most intense, sexual, and passionate relationship of my life.
We both agreed to check our bags at the door and put our future hopes and aspirations on the table.
It worked.
I fell in love with his no holds barred attitude, sexy smirk, and undeniably good heart . . . and for a while we forgot about our baggage. We happily tripped over it to get to the other, neither of us willing to show the contents of our pasts in the off chance it could ruin us.
We built our love on a foundation of gray.
It was life in black and white that threatened to tear us apart.
Lead Me Home by A.L. Jackson (Read my Review)
A friends-to-lovers second-chance romance…
Fourteen years ago, my life changed forever.
My sister disappeared. That day I was selfish. That day I chose myself over her. And that day, I lost everything.
Including Nikki Walters.
She's the girl I've loved my whole life. She's gorgeous. Caring. Every single thing I've ever wanted but denied myself. She was my sister's best friend, and I destroyed any chance of keeping her.
When her safety is threatened, I have a second chance to do the right thing. But as soon as she moves in, I want her in all the wrong ways.
All it takes is a brush of her hand, and I'm losing all control.
The fire between us is only burning hotter.
But neither of us saw what was coming.
And it just might be Nikki Walters who destroys me in the end.
Melt for You by J.T. Geissinger (Read my Review) 
Socially awkward Joellen Bixby has a date every Saturday—with her cat, a pint of ice cream, and fantasies of the way-too-handsome Michael Maddox. She'd give anything to win over the unattainable CEO of her firm, but how can she when she blends in so well with her cubicle? The answer may be closer than she thinks.
Cameron McGregor is a cocky, tattooed Scottish rugby captain who just moved in next door. He's not Jo's type—at all—but the notorious playboy is offering to teach the wallflower everything he knows about inspiring desire. Though a lot of women have rumpled Cam's kilt, Jo is special. Far from the ugly duckling she thinks she is, in Cam's eyes she's sharp, funny, and effortlessly sexy. Now, thanks to him, Jo is blooming with confidence and has the man of her dreams within reach.
Unfortunately for Cam, he's just helped to push the woman of his dreams into the arms of another man—and now he's in the fight of his life to keep this beauty from getting away.
Loving Irish by Katy Regnery (Read my Review)
From the New York Times bestselling author of The Blueberry Lane series comes a new trio of romances featuring the Haven triplets!
Ian Haven and Halcyon Gilbert haven't seen each other since Hallie's 17th birthday…
…the same day Hallie pledged she would never, ever speak to Ian again as long as she lived.
Hallie Gilbert has had an especially awful year. When her husband of five years left her, Hallie's 4-year-old daughter, Jenny, essentially stopped speaking. Add to this, she had to sell her Boston apartment to pay her husband's exorbitant credit card bills. What Hallie needs is an uncomplicated autumn at Colby Cottage, her family's summer home in Sandwich, NH, where she and Jenny can re-group and figure out what happens next.
But Colby Cottage, located adjacent to the Summerhaven Camp, has not been well-maintained and Hallie finds it in such disrepair, it's almost unlivable. When nearby camp owner, Rory Haven, arranges for his brother, Ian, to handle renovations for Hallie, her plans for an uncomplicated autumn suddenly get a lot more challenging.
The One You Can't Forget by Roni Loren (Read my Review)
Most days Rebecca Lindt feels like an imposter…
The world admires her as a survivor. But that impression would crumble if people knew her secret. She didn't deserve to be the one who got away. But nothing can change the past, so she's thrown herself into her work. She can't dwell if she never slows down.
Wes Garrett is trying to get back on his feet after losing his dream restaurant, his money, and half his damn mind in a vicious divorce. But when he intervenes in a mugging and saves Rebecca—the attorney who helped his ex ruin him—his simple life gets complicated.
Their attraction is inconvenient and neither wants more than a fling. But when Rebecca's secret is put at risk, both discover they could lose everything, including what they never realized they needed: each other
She laughed and kissed him. This morning she'd melted down. But somehow this man had her laughing and turned on only a few hours later. Everything inside her felt buoyed.
She felt…light.
She'd forgotten what that felt like.
The Kiss Quotient by Helen Hoang (Read my Review)
It's high time for Stella Lane to settle down and find a husband – or so her mother tells her. This is no easy task for a wealthy, successful woman like Stella, who also happens to have Asperger's. Analyzing data is easy; handling the awkwardness of one-on-one dates is hard. To overcome her lack of dating experience, Stella decides to hire a male escort to teach her how to be a good girlfriend.
Faced with mounting bills, Michael decides to use his good looks and charm to make extra cash on the side. He has a very firm no repeat customer policy, but he's tempted to bend that rule when Stella approaches him with an unconventional proposal.
The more time they spend together, the harder Michael falls for this disarming woman with a beautiful mind, and Stella discovers that love defies logic.
Tattered by Devney Perry (Read my Review)
Thea Landry has always known her place in modern-day society. It's somewhere just above the trash can her mother dumped her in as a newborn but below the class where much comes easy. With her tattered shoes and bargain-bin clothes, her life has never been full of glamour.
So when a rich and charismatic man takes interest, she doesn't fool herself into thinking their encounter is anything more than a one-night stand. Months later, she's kicking herself for not getting his phone number. Or his last name. She's given up hope of seeing him ever again.
Until one day, years later, Logan Kendrick waltzes into her life once more and turns everything she's built upside down. This time around, she won't make the same mistake. She's going to fight to keep him in her life—not for herself.
But for their daughter.
The Surviving Trace by Calia Read (Read my Review)
Will is my fiancé. The shy man I met years ago in college. The person I'm supposed to spend the rest of my life with.
This is the life I've always wanted until finding a picture of four men changes everything…
Étienne says he's my husband and the year is 1912. He can't stand the sight of me, but I don't know why.
Oh, and he's one of the men from the picture.
I've done the impossible and have become trapped in time and I know Étienne is my key to going home.
The more time I spend with Étienne, the further I fall for him until I'm questioning which time I belong in and if the life I left behind is the one I truly desire.
All I know for certain is I need to survive time.
I need to survive love.
And I need to make it out on the other side alive.
Disgrace by Brittainy C. Cherry (Read my Review)
Each day I prayed for my husband to love me again.
After fifteen years together, he walked away from me, and into the arms of another.
I didn't know how to cope. I didn't know my worth. I didn't know how to exist without him by my side.
All I wanted was for him to come back to me.
Then, Jackson Emery appeared.
He was supposed to be a distraction for my mind. A summer fling. A confidence boost to my bruised heart.
We were perfect for one another, because we both knew we wouldn't last. Jackson didn't believe in commitment, and I no longer believed in love. He was too closed-off for me, and I was too damaged for him.
Everything was fine, until one night my heart skipped a beat.
I didn't expect him to make me laugh. To make me think. To make my sadness somewhat disappear.
When our time was up, my heart didn't know how to walk away.
Each day I prayed for my husband to love me again, yet slowly my prayers began to shift toward the man who wasn't right for me.
I prayed for one more smile, one more kiss, one more laugh, one more touch…
I prayed for him to be mine.
Even though I knew his heart wasn't destined to love.
Filthy Gods by R. Scarlett (Read my Review)
Prelude in the American Gods series.
Young. Wealthy. Elite. Attractive. The gentlemen's secret society at Yale was filled with them.
And Nathaniel Radcliffe, the bane of my existence, was one of them.
As the right hand of the American Gods, he was conceited and arrogant. A dangerously handsome man in a tailored custom suit and shiny black oxford loafers.
The classroom was our battlefield. We made a sport out of arguing and debating, ready to do anything in order to win over the other.
Deadly opponents, deadlier minds.
I'd sworn I'd never give him the upper hand, until…
The secret I've been hiding for the last three years?
He just discovered it… and now he has all the power.
The Fragile Ordinary by Samantha Young (Read my Review)
I am Comet Caldwell.
And I sort of, kind of, absolutely hate my name.
People expect extraordinary things from a girl named Comet. That she'll be effortlessly cool and light up a room the way a comet blazes across the sky.
But Comet has never wanted to be the centre of attention. She can't wait to graduate from high school in Edinburgh and leave to attend university somewhere far, far away.
When new student Tobias King blazes in from America and shakes up the school, Comet thinks she's got the bad boy figured out. Until they're thrown together for a class assignment and begin to form an unlikely connection.
Someone's Else Ocean by Kate Stewart (Read my Review)
The first time I met Ian Kemp in the sparkling blue waters of St. Thomas, I was six years old and we shared a summer beneath the stars.
The second time I met Ian Kemp, he was a shell of the boy I once knew. Turbulent and infuriating, he refused my friendship at every turn. Like me, he was a casualty of life's cruelty, but we were planets apart.
We'd both sought refuge on the island, hoping to find our anchor. Instead, we found each other and managed to reclaim our stars…until we both got swept away.
The Simple Wild by K.A. Tucker (Read my Review)
Calla Fletcher was two when her mother took her and fled the Alaskan wild, unable to handle the isolation of the extreme, rural lifestyle, leaving behind Calla's father, Wren Fletcher, in the process. Calla never looked back, and at twenty-six, a busy life in Toronto is all she knows. But when her father reaches out to inform her that his days are numbered, Calla knows that it's time to make the long trip back to the remote frontier town where she was born.
She braves the roaming wildlife, the odd daylight hours, the exorbitant prices, and even the occasional—dear God—outhouse, all for the chance to connect with her father: a man who, despite his many faults, she can't help but care for. While she struggles to adjust to this new subarctic environment, Jonah—the quiet, brooding, and proud Alaskan pilot who keeps her father's charter plane company operational—can't imagine calling anywhere else home. And he's clearly waiting with one hand on the throttle to fly this city girl back to where she belongs, convinced that she's too pampered to handle the wild.
Jonah is probably right, but Calla is determined to prove him wrong. As time passes, she unexpectedly finds herself forming a bond with the burly pilot. As his undercurrent of disapproval dwindles, it's replaced by friendship—or perhaps something deeper? But Calla is not in Alaska to stay and Jonah will never leave. It would be foolish of her to kindle a romance, to take the same path her parents tried—and failed at—years ago.
It's a simple truth that turns out to be not so simple after all.